Interface

(51)

(9)

(10)

(28)

(30)

(36)

(29)

(9)

(12)

(12)

(21)

(28)

(272)

(7)

(17)

(161)

(382)

(56)

(52)

(2)

(2)

(10)

(9)

(5)

(1)

(115)

(10)

(41)

(103)

(33)

(42)

(157)

(11)

(5)

(31)

(8)

(29)

(39)

(78)

(23)

(4)

(6)

(2)

(26)

(2)

(18)

(1)

(25)

(2)

(2)

(18)

(4)

(16)

(7)

(21)

(11)

(6)

(20)

(5)

(6)

(12)

(2)

Show More
Printer Type
Print Technology

(169)

(2)

(528)

(999+)

(2)

(950)

(12)
Manufacturer

(999+)

(501)

(554)

(409)

(110)

(17)

(26)

(31)

(76)

(114)

(69)

(25)

(99)

(50)

(20)

(15)

(21)

(121)

(42)

(82)

Show More
Condition
Price

(4)

(108)

(235)

(128)

(160)

(510)

(358)

(451)

(476)

(587)

(260)

(158)

(159)

(205)

(127)

(101)

(29)

(13)

(25)

(15)

(38)

Show More
Cutter

(246)

(116)

(21)

(18)

(6)

(6)

(121)

(190)

(155)

(98)

(40)

(52)

(13)

(18)

(21)

(239)

Show More
Max Resolution(B&W)

(282)

(15)

(999+)

(26)

(1)

(478)

(19)

(54)

(173)

(1)

(28)

(33)

(12)

(17)

(5)

(19)

(3)

(13)

(38)

(8)

(1)

(71)

Show More
Print Speed

(2)

(175)

(1)

(15)

(2)

(3)

(32)

(136)

(6)

(4)

(82)

(8)

(98)

(2)

(58)

(1)

(7)

(19)

(1)

(18)

(1)

(2)

(1)

(1)

(3)

(2)

(105)

(255)

(125)

(1)

(112)

(50)

(123)

(28)

(98)

(61)

(6)

(161)

(14)

(41)

(22)

(7)

(15)

Show More

Seller

(452)

(485)

(422)

(391)

(213)

(107)

(102)

(99)

(96)

(93)

(82)

(77)

(72)

(72)

(69)

(68)

(64)

(64)

(63)

(63)

Show More

Useful Links

Show More

Customer Ratings

(414)

(156)

(85)

(9)

(31)

Ship From Country

(999+)

(7)

(999+)

(4)

(31)
Add To Compare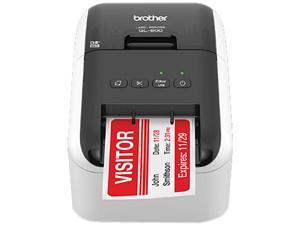 Brother QL-800 2.4" High-speed, Professional Direct Thermal Label Printer, USB, Auto Cutter - White/Black
Printer Type: Desktop
Fonts Included: Font Styles: True Type
Barcode Type: CODE39, CODE128, UCC/EAN128(GS1-128), ITF(I-2/5), CODABAR(NW-7), UPC-A, UPC-E, EAN13, EAN8, ISBN-2(EAN13 AddOn2), ISBN-5(EAN13 AddOn5), Laser Barcode, POSTNET, RSS(RSS14 Standard, RSS14 Truncated, RSS14 Stacked, RSS14 Stacked Omni, RSS Limited, RSS Expanded, RSS Expanded Stacked), PDF417(Standard, Truncate, Micro), QR code(Model1, Model2, Micro), Data Matrix(ECC Square, ECC Rectangular), MaxiCode(Model2, Model3, Model4, Model5), GS1 Databar Composite, Aztec Barcode
Cutter: Auto-Cutter Cutter Life: Up to 300,000 (die-cut labels) 150,000 (continuous labels)
Model #: QL800
Item #: 330-0006-00037
What Customers Are Saying...
I needed to switch over to Apple computer, phone and ipad because of software changes in my buisness. I was able to purchase a Macbook Air, Iphone 5se, and Ipad Air. These items were either open box or refurbished with a A rating. Fabulous Prices, all worked and looked new. I am a faithful user of a popular on line store that deals in the same items, however I can not get these kind of deals especially at these condition and prices.
See All

Up to 12 Months special financing every day, every purchase.
Learn More
Label makers have long evolved past the simple indented words on multicolor tape; not that those trigger devices aren't useful. Create multiple label colors with compact, all-in-one desktop label printers or use handheld label makers to color–code personal schedules or work tasks. Regardless of what type of label maker you need, Newegg has the machine to get the job done.
Bar Code Label Printers Are Essential POS Devices for Business
Point-of-sale (POS) systems are common in retail, manufacturing and other sales industries. Using POS systems like bar code labeling printers helps businesses keep track of inventory and specific equipment parts. Bar code readers have both scanners and decoders. The data creation takes place in the decoder after the scanner sends it the information. The bar code device relies on a computer connection to understand the transmitted data. Bar code label printers are fast and efficient and they are available in sizes to fit any workspace. Rugged bar code labelers work well for mechanic shops, warehouses and other tough job sites, because they stand up better to dust, falls and moisture. Creating tags with compact bar code label printers also works well for tracking products during pre-shipping and mailing processes to ensure the products process correctly and ship on time.
Label Makers Create More Than Text
A label maker is a versatile machine that creates a variety of font sizes and styles or symbols on labels for any home, office or school project. Certain label makers also allow you to use several graphics templates pre-installed on the machine. Use color labelers to create multicolored text for creative projects, or select black and white for mailing labels. Desktop label printers are available for Mac or PC and a stand-alone option. Some stand-alone desktop and handheld models have backlit LCD screens to preview data before printing. Label makers are also available in a variety of power options like rechargeable, AC-DC adapter and standard battery. Push–button and modern touch–screen keyboard desktop label makers are available to offer clear text labels in a variety of sizes.
Desktop Label Printers Are Practical and Creative Tools
Make decorative labels for birthday, holiday and other special occasion greeting cards and letters with a desktop label printer. Place names on lunch boxes, backpacks, pencil boxes and other school supplies to prevent them from getting lost. Organize cupboards and storage containers with colorful tags that describe contents. Label tape for handheld, battery–operated models is a durable and efficient way to tag equipment that belongs in specific areas of your home. For example, mark remotes with the paired device's name so you know what TV or sound system they belong to. Desktop printers can also produce nearly any shipping label you require, from address labels to postage. Use inkjet printers to create packing, address and storage labels. For speed and precision jobs like larger bar code and shipping labels, laser printers offer smooth, consistent results.