Native Resolution

(629)

(437)

(4)

(1)

(881)

(48)

(5)

(999+)

(1)

(4)

(4)

(3)

(9)

(1)

(31)

(1)

(8)

(10)

(14)

(214)

(85)

(2)

Show More
Brightness

(237)

(38)

(20)

(47)

(106)

(818)

(999+)

(3)

(1)

(7)

(5)

(23)

(19)

Show More
Seller

(283)

(999+)

(532)

(409)

(371)

(350)

(319)

(317)

(258)

(240)

(230)

(224)

(223)

(196)

(182)

(181)

(176)

(162)

(155)

(154)

Show More
Condition
Manufacturer

(985)

(789)

(107)

(392)

(874)

(239)

(185)

(219)

(153)

(183)

(177)

(336)

(165)

(141)

(181)

(10)

(212)

(370)

(258)

(258)

Show More
Type

(1)

(999+)

(999+)

(18)

(179)

(25)

(4)
Price

(30)

(379)

(920)

(490)

(478)

(954)

(454)

(520)

(459)

(999+)

(838)

(594)

(452)

(576)

(318)

(193)

(144)

(100)

(29)

(33)

(268)

Show More
Cabinet Color

(40)

(498)

(4)

(1)

(1)

(14)

(17)

(11)

(1)

(39)

(18)

(5)

(23)

(999+)

(1)

(1)

Show More
Contrast Ratio

(26)

(3)

(3)

(2)

(23)

(144)

(4)

(5)

(1)

(4)

(11)

(5)

(1)

(46)

(223)

(3)

(17)

(3)

(9)

(53)

(2)

(4)

(3)

(90)

(2)

(28)

(2)

(89)

(1)

(45)

(2)

(2)

(17)

(42)

(1)

(472)

(6)

(90)

(52)

(145)

(100)

(239)

(2)

(21)

(476)

(40)

(38)

(4)

(29)

(83)

(343)

Show More

Useful Links

(999+)

(999+)

(999+)

(84)

(999+)

(5)

(315)

(999+)

(156)

Show More

Customer Ratings

Ship From Country

(999+)

(18)

(42)

(561)

(42)

(9)

Show More
Add To Compare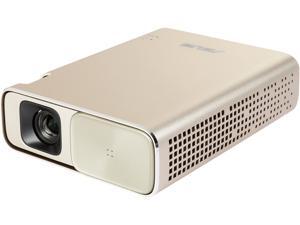 ASUS E1Z 854 x 480 DLP Projector
Cabinet Color: Icicle Gold
Aspect Ratio: 16:9
Contrast Ratio: 3500:1
Display Size: 0.2"
Model #: E1Z
Item #: N82E16824236590
Return Policy: Replacement Only Return Policy
|

$269.99

–

Free Shipping
What Customers Are Saying...
I have shopped at many places over the years. Newegg has proven to be the absolute best. Better customer service than I thought possible. Big selection of products, good pricing, and superb customer service. This is a winning combination.
See All

Up to 12 Months special financing every day, every purchase.
Learn More
Business Projectors
Use this link for more on Business Projectors in our Learning Center
Newegg.com offers a rich selection of projectors using LCD or DLP and from mainstream to professional. We carry projectors from Epson, InFocus, Mitsubishi, Sony, NEC and others. These days, projectors come in a wide range of resolutions and luminosities, for small offices or large lecture halls! Home and business users alike will be able to find projectors that fit and function perfectly both for the office and the home and enjoy maximum visual quality and impact as well as enhanced work efficiency.