Seller

(67)

(999+)

(999+)

(179)

(169)

(142)

(127)

(126)

(80)

(79)

(66)

(60)

(57)

(52)

(50)

(49)

(48)

(42)

(37)

(32)

Show More
Ship From Country

(999+)

(2)

(366)

(2)

(17)

(1)

Show More
Manufacturer

(170)

(22)

(13)

(33)

(170)

(14)

(817)

(442)

(326)

(157)

(390)

(723)

(675)

(7)

(562)

(280)

(192)

(972)

(125)

(368)

Show More
Customer Ratings

(108)

(193)

(59)

(18)

(6)
Condition
Price

(244)

(563)

(736)

(419)

(999+)

(999+)

(467)

(125)

(35)

(27)

(5)

(2)

(3)

(1)

(1)

Show More
Thunderbolt 3
Useful Links

(60)

(211)

(225)

(35)

(32)

(178)

(999+)

(8)

(9)

(44)

Show More
Add To Compare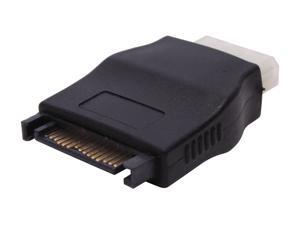 Nippon Labs SATA to Molex Power Adapter SATA-FM SATA 15 Pin male to Molex 4 pin female adaptor for SATA I and SATA II Hard Drive Model SATA-FM
+ 50% off w/ promo code NPLAMXE5553, limited offer
Changer Type: SATA
Specifications: SATA 15 Pin male to Molex 4 pin female adaptor Easy migration to SATA power Convert an existing SATA power connector to molex power connector
Model #: SATA-FM
Item #: N82E16812816038
Return Policy: 45/1 Return Policy
$6.99

6.99

$4.11

–

Save:

41%

$1.99 Shipping
What Customers Are Saying...
I have shopped at many places over the years. Newegg has proven to be the absolute best. Better customer service than I thought possible. Big selection of products, good pricing, and superb customer service. This is a winning combination.
See All

Up to 12 Months special financing every day, every purchase.
Learn More