Nintendo DS Featured Items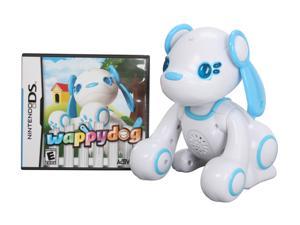 Wappy Dog w/Interactive Toy Nintendo DS Game
Brand: Activision
ESRB Rating: E - Everyone
Genre: Simulation
Platform: Nintendo DS
Model #: 047875765504
Item #: N82E16878114293
|

$49.99

–

$4.99 Shipping
Add To Compare
What Customers Are Saying...
I needed to switch over to Apple computer, phone and ipad because of software changes in my buisness. I was able to purchase a Macbook Air, Iphone 5se, and Ipad Air. These items were either open box or refurbished with a A rating. Fabulous Prices, all worked and looked new. I am a faithful user of a popular on line store that deals in the same items, however I can not get these kind of deals especially at these condition and prices.
See All

Up to 12 Months special financing every day, every purchase.
Learn More
Nintendo DS
The Nintendo DS is unquestionably one of the most popular handheld video game consoles, providing exciting entertainment in a handheld format. As such, we always make sure to keep this pocket-sized console in stock - in all of its affordably priced models. Similar to the DS, are the Nintendo Wii U and Nintendo Switch Consoles, both which also allows for dual-screen gaming as well.
Models of the DS (with the exception of the DS Lite) range from 3.25 to 4.2 inches in terms of screen width. While this is certainly small, visibility is never a struggle, and it provides remarkable clarity and graphic quality despite its compact dimensions.
Newer versions of the DS feature the stock Camera and Sound applications, which make on-the-go photography, music and sound recording a breeze. Some models also include pre-installed software such as Brain Age and Photo Clock. Perhaps more importantly, though, is the device's Wi-Fi readiness. With the addition of an expansion pack (to allow for the necessary extra memory), the DS allows you to surf the web in between games - or, in some instances, during games, to interact with other users or access exclusive content.
As far as controls are concerned, you'll notice a great deal of flexibility with the Nintendo DS. In addition to the standard buttons, certain games and functions allow you to take advantage of the touch-screen stylus that comes with the console. For the games and applications that use it, this option provides notable ease of use and plenty of fun.
Another one of the DS' greatest attributes is the wide spectrum of games available. No matter what you're into as a gamer - racing games, first-person shooters, puzzles, sports games or fantasy based RPGs - chances are good you'll be able to find something to your liking. We have many of the console's new and classic titles in stock, so take a look today and let your gaming experience begin!