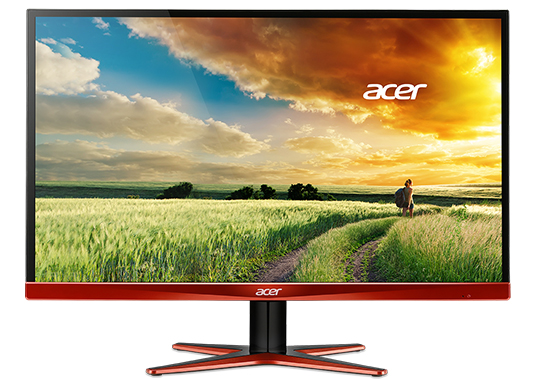 Acer XG270HU Gaming Monitor
Take your gaming and movies to the next level with the Acer XG270HU monitor. It features 27" large viewing real estate and 2560 x 1440 WQHD resolution that delivers every bit of detail. Everything looks fantastic on the screen thanks to the fast 1ms response time, 144Hz frame rate and ACM 100,000,000:1 contrast ratio. It also supports FreeSync technology, for tear-free and stutter-free gaming. HDMI, DVI and DisplayPort inputs are built onboard. Plus, its frame-less design with arresting red stand are easy on the eye, while the flicker-less, low dimming and Comfy View technology ensure the Acer XG270HU are comfortable to your eyes.
Unrestrained Brilliance
The high resolution of this monitor (WQHD, 2560 x 1440 pixels) combines with a rapid refresh rate of 144Hz and a blazingly fast response time of 1ms to deliver ultra-smooth action sequences in great detail. This is also the world's first frameless gaming monitor, so all that action is free to go where your mind goes.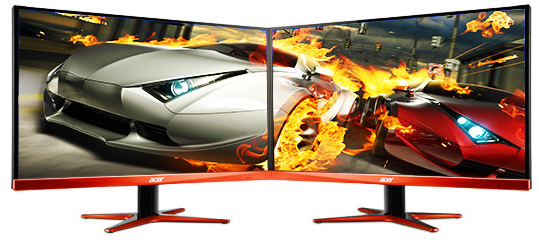 High-Speed Connections
As a high-end gaming monitor, the XG is designed to handle high rates of data transfer. To get all that data to the monitor quickly and smoothly requires high-bandwidth data cables. That's why these monitors come with high-bandwidth connection ports like HDMI 2.0, DVI (Dual Link), and DisplayPort.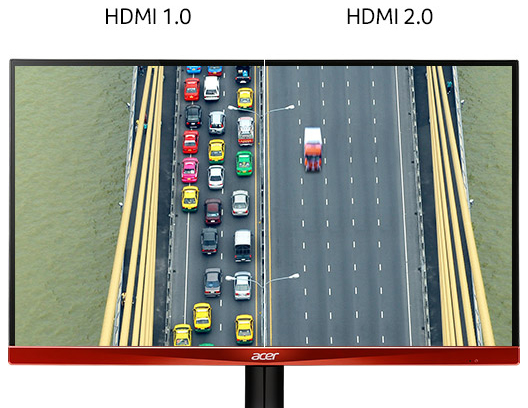 Great Eye Protection
These monitors help to reduce eye strain with Flicker-less, low-dimming (dim to only 10% of brightness in dark environments), anti-glare, and blue-light filtering technologies. Flicker-less technology reduces strain-causing screen flickering, while the blue-light filter lets you filter out harmful blue light. Acer ComfyView technology cuts screen glare to further reduce eye strain.
FreeSync Eliminates "Tearing"
This monitor's DisplayPort port supports DisplayPort Adaptive-Sync. That means this monitor can work with a FreeSync-supporting graphics card and driver software* to eliminate screen tearing, while minimizing lag and latency. With FreeSync, the monitor's frames are synced with the graphics card's frames, which eliminates screen tearing and delivers very smooth gaming experiences.
* Requirements to enable FreeSync dynamic frame-refresh syncing: (1) OS: Windows 7 or Windows 8.1 (2) Graphics card: AMD Radeon R9 290 Series or AMD Radeon R7 260 Series (3) Driver software: AMD Catalyst (4) Monitor interface: DisplayPort or eDP (5) Monitor: Must support DisplayPort Adaptive-Sync.