Seller

(26)

(157)

(100)

(31)

(19)

(13)

(13)

(12)

(10)

(10)

(8)

(8)

(7)

(7)

(6)

(6)

(6)

(5)

(5)

(4)

Show More
Price

(191)

(98)

(108)

(43)

(12)

(24)

(11)

(6)

(2)

(15)

(4)

(3)

(1)

(2)

(1)

(2)

Show More
Ship From Country

(395)

(1)

(1)

(107)

(1)

(1)
Customer Ratings
Manufacturer

(19)

(46)

(8)

(4)

(100)

(35)

(11)

(8)

(21)

(14)

(7)

(7)

(8)

(12)

(17)

(11)

(6)

(25)

(6)

(11)

Show More
Condition
Useful Links

Show More
Add To Compare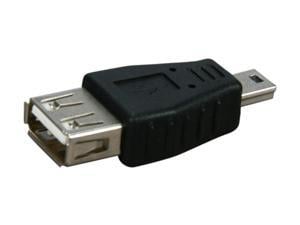 Kaybles AD-USB-AF-MINIBM USB A Female to Mini USB B (5pin) Male Adapter Black - OEM
Changer Type: USB A Female to Mini USB B (5pin) Male
Specifications: Color: Black
Parts: 1 year limited
Labor: 1 year limited
Model #: AD-USB-AF-MINIBM
Item #: N82E16812576002
Return Policy: 45/1 Return Policy
$10.49

10.49

$4.51

–

Save:

57%

Free Shipping
What Customers Are Saying...
Using the tools you provide ( specs and comparisons ) I built from the ground up a gaming PC that that PassMarks at 4432. This puts me in the top 83% of all PCs tested. Only 17% of computers tested, out run mine. All this for a total of $544. case, motherboard, CPU, memory and power. I will put mine against any $2000 Gaming PC
See All

Up to 12 Months special financing every day, every purchase.
Learn More