A must-have for businesses that have aggressive mailing schedules or that want to create seamless organizational systems,?the DYMO? LabelWriter? 450 professional label printer for PC and Mac is a label-printing powerhouse. With?the ability to print up to 51 four-line address labels per minute, the Dymo LabelWriter is the tool that can help your office speed up production output of everything from labels to IDs.
Connects Easily to Macs and PCs
The Dymo LabelWriter printer connects quickly and seamlessly to both PCs and Macs, easily syncing with and allowing you to print from programs like Microsoft Word and Outlook, CardScan, Mac Address Book and QuickBooks. This allows the unit to be up and running in no time, helping streamline the workflow of every department from accounting to the mail room.
Dymo LabelWriter Printer Has Multiple Label Layout Options
The printer's Dymo Label? v.8 software allows you to choose from a wide variety of different label layout options—up to 60 choices. It outputs crisp, high-quality labels, ideal for creating address labels for corporate mailers or for making crisp, clear and neatly printed file folder labels that help streamline your company's organizational system.?It's also a useful alternative to a?card printer, as the LabelWriter enables you to create paper ID cards and badges as well.
Thermal Printing Reduces Printing Costs
Because the Dymo LabelWriter?for PC and Mac uses thermal printing technology, there's no need to buy endless rounds of toner or ink, helping reduce overall printing costs.
DYMO LabelWriter 450 Series
DYMO Productivity Software--Work Faster and Smarter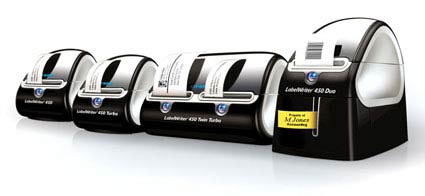 LabelWriter 450 Series: smart labeling and mailing solutions
for your busy, cost-conscious office.
Label, mail, and file smarter with proprietary DYMO productivity software, featuring DYMO Label v.8, DYMO Stamps, DYMO File and Address Fixer. DYMO Label v.8 software enables you to create and print address, shipping, file, folder and barcode labels, plus name badges and more--all without the extra work and hassles of printing sheet labels on a standard desktop printer. Plus, use the included DYMO Stamps software to print USPS-approved postage directly from your desktop--without fees, contracts or monthly commitments.*
Label Printer--Create Labels and USPS-Approved Postage
Quickly connect a DYMO LabelWriter label printer to your PC or Mac, and you're ready to print labels directly from Microsoft Word, Excel, Outlook, QuickBooks and other popular programs. Best of all, DYMO printers use thermal printing technology--no expensive ink or toner needed, ever. DYMO 450 series label printers carry a two-year limited warranty.
Label faster. Mail smarter. Look sharp.
Make any office more productive, efficient and professional.
Create colored labels.

Make barcode labels
for scanning packages.

Print name tags for visitors.

Design labels for CDs.

Create shipping labels for larger-size packages.

Generate labels for files and other documents.
Please note: Functions of label maker shown above vary by model.
5 Label Printers to Choose From:
LabelWriter 450: Fast, smart label printing for any budget. Print basic labels for envelopes, packages, files, inventory, barcodes and more at speeds up to 51 labels per minute.**
LabelWriter 450 Turbo: Print faster--and print postage. Print 60+ label layouts at speeds up to 71 labels per minute.** Plus prints DYMO Stamps postage.
LabelWriter 450 Twin Turbo: Double your label capacity for even greater labeling and mailing efficiency. Holds two label rolls at once for maximum efficiency--print 60+ label layouts at speeds up to 71 labels per minute**, without switching label rolls. Plus prints DYMO Stamps postage.
LabelWriter 450 Duo: Print paper and plastic labels with one printer. The one printer for all your labeling jobs. Print 60+ paper label styles at speeds up to 71 labels per minute.** Plus prints DYMO D1 cassette labels and DYMO Stamps postage.
LabelWriter 4XL: DYMO's fastest and highest capacity LabelWriter label printer. Prints the widest variety of DYMO LabelWriter labels. Print postage and shipping labels right from your desktop--and labels up to 4.16 inches wide. The printer's 300 dpi resolution ensures precise barcodes and clear, legible text and graphics. It prints up to 129 labels per minute*** and has a capacity of up to 1050 labels per roll***.
Product Specifications:
Works with Windows XP, Windows Vista (32-bit, 64-bit), Windows 7 or Mac OS v10.4 or later; USB connected.
What's in the Box
Power cords, USB cable, software, instructions, and starter labels.
Choose the LabelWriter That's Right For You
DYMO LabelWriter
450 Series Label Printers
LabelWriter
450
LabelWriter
450 Turbo
LabelWriter
450 Twin Turbo
LabelWriter
450 Duo
LabelWriter
4XL
Reasons For Use
(Files, binders, retail stickers, name badges, address labels, return labels, large envelope labels, etc.)
•
•
•
•
•
Prints Large Format (4" x 6") & High-Capacity Labels
•
Prints DYMO Stamps Postage*
•
•
•
•
Prints Barcodes
(Print Resolution DPI: 600x300)
•
•
•
•
•
Print Speed (labels/minute)
*4-line address label
51
71
71
71
53
PC or Mac Connectivity
•
•
•
•
•
Prints Die Cut Paper LW Label Rolls
•
•
•
•
•
Prints Plastic D1 Labels
(Temperature & Water Resistant)
•
Dual Roll Printing
•
*Internet connection required. DYMO Stamps service provided by Endicia, a licensed USPS PC Postage provider. Account terms are subject to change.
**4-line address label
*** When combined with the LabelWriter high-capacity address labels printing 4 line address